Ayur Healthcare
Parramatta, Sydney, Australia Welcomes You!
At Ayur Healthcare, our team comprises nature enthusiasts who are dedicated to providing professional care without compromising on personal attention for every individual who walks through our door.
Experience and Expertise: Our Ayurvedic practitioners bring a wealth of experience from two different geographies, India and Australia, which enriches their knowledge and expertise in classical Ayurvedic treatment. With over 25 years of experience, they are true pioneers in their field, guaranteeing that you receive the highest level of expertise and care.
Prestigious Recognition: Ayur Healthcare, the esteemed "Most Popular Holistic Clinic in Australia" for three consecutive years (2020, 2021, and 2022), is also a finalist for the Parramatta Local Business Award 2021 and the Australian Small Business Champions Award 2022. These accolades attest to our unwavering commitment to excellence and the trust and satisfaction of our valued clients. 
Personalized Approach: Our highly skilled Ayurvedic Practitioners, with B.A.M.S, M.S, and M.D qualifications, offer personalized Ayurvedic health assessments. They aim to restore bliss to your body and mind by embracing a holistic approach to physical and emotional well-being. Our practitioners provide Ayurvedic therapeutic massages and treatments tailored to your unique needs.
All Under One Roof: Choose us for a comprehensive wellness experience under one roof. Ayur Healthcare provides Ayurvedic consultation, Ayurvedic herbs, therapeutic treatments, Panchakarma detox, yoga, and homeopathy treatments. Experience holistic care and rejuvenation with us.
Specialization: Ayur Healthcare is a highly reputed, trusted, and affordable Ayurvedic clinic in Australia. With a specialization in Panchakarma detox treatments, we have thousands of happy clients. Our skilled Ayurvedic practitioners and therapists excel in a variety of treatments. Experience a complete Ayurvedic center at Ayur Healthcare.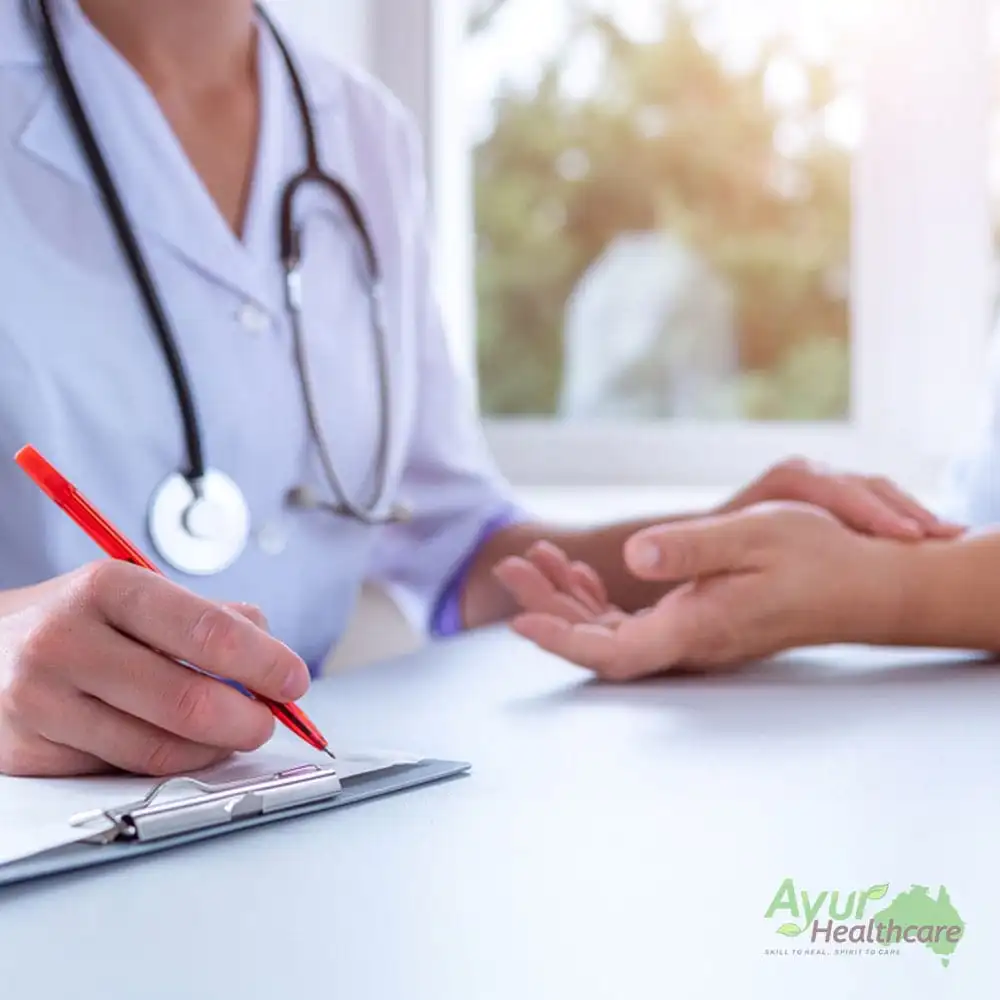 Book a Consultation
Consultation Charge: $89 $78 (Duration: 1Hr)
An Ayurvedic consultation is the starting point of your journey into Ayurveda. At Ayur Healthcare, we recommend that clients beginning Ayurvedic treatment attend their first consultation in person. However, if an in-person consultation is not convenient, we also offer the option to connect via Zoom, Telephone, or Skype.
During your visit, be prepared to share information about yourself. Ayurveda emphasizes balance in all areas of life, and our highly skilled and qualified Ayurvedic practitioner will not only examine your body but also gather your medical and personal history. This includes details about your daily diet, relationships, profession and working environment, exercise routines, sleep patterns, past illnesses, and mental health. These processes help the practitioner identify key symptoms and the root causes of imbalances, enabling them to recommend the appropriate Ayurvedic treatment options for you.
List of Diseases Treated in Ayurveda
Ayurveda is a medical system that has been practiced for ages and believes in treating the individual holistically. The modern Ayurvedic practitioners at Ayur Healthcare in Sydney are qualified from highly reputed Ayurvedic institutions and are fully conversant with modern diagnostic methodologies.
Ayurvedic treatments are tailored to the individual, taking into account their constitution, mental makeup, environment, and more. Ayurveda offers effective remedies for lifestyle-related health issues, chronic ailments, and helps build optimal immunity while preventing diseases. It corrects the body's imbalances caused by an improper lifestyle and the accumulation of toxins.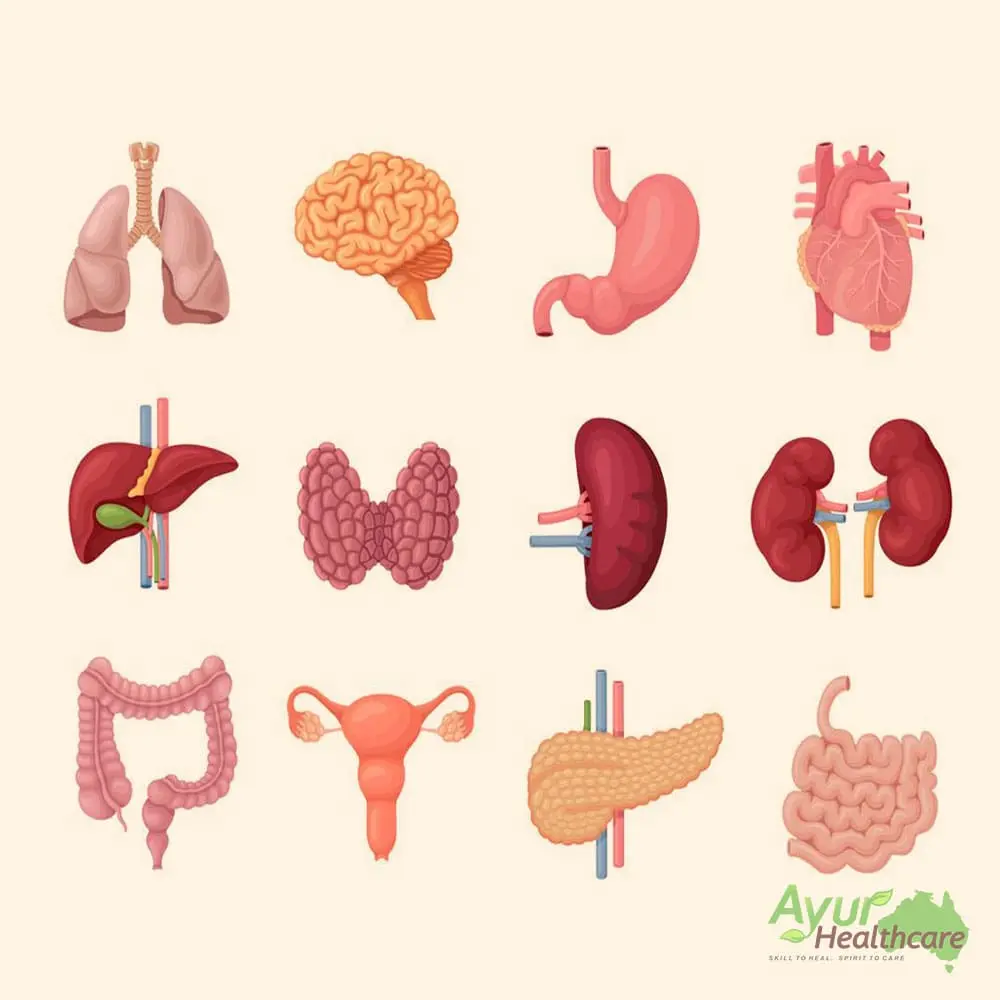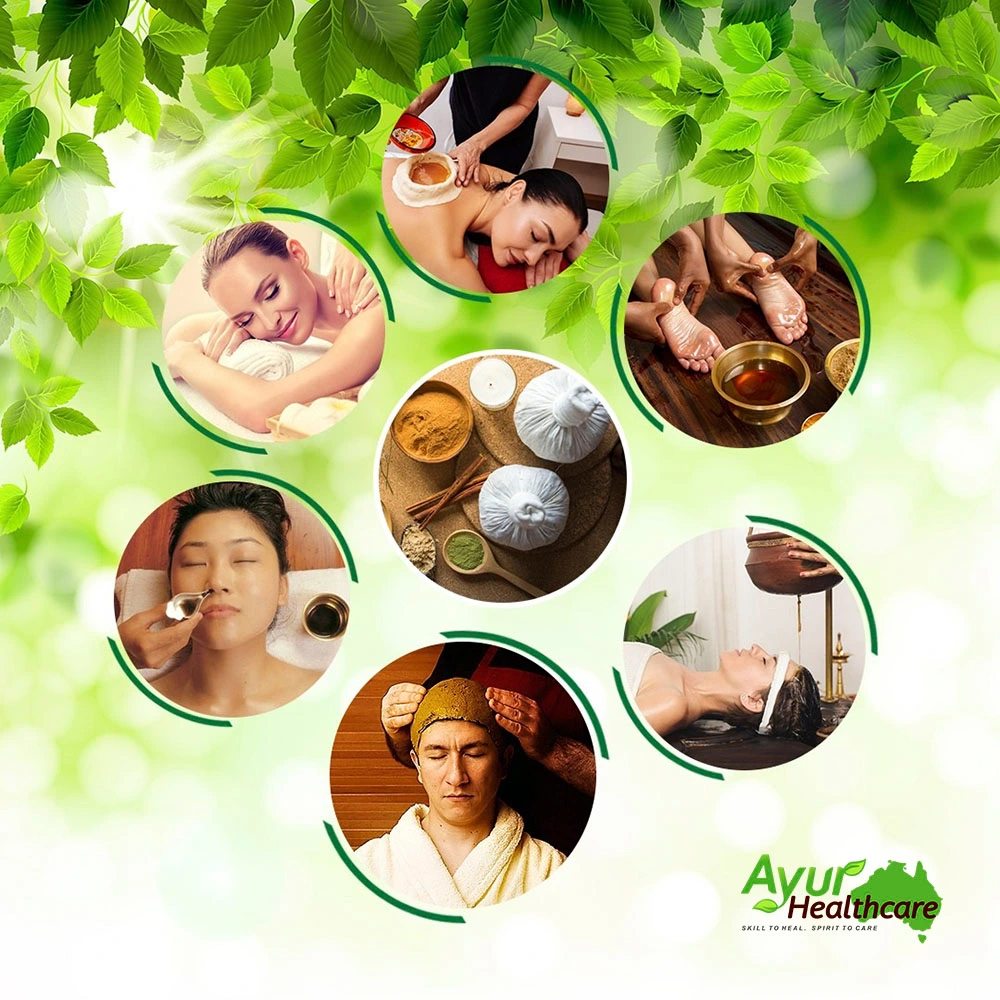 World of  Therapies We Offer!
At Ayur Healthcare, our Ayurveda therapies focus on addressing the disharmony in the body, going beyond simply treating the disease. We delve into understanding why the disease is present and what factors are causing it. Our Ayurvedic Practitioners and Ayurvedic Massage specialists take into account your unique mind and body type to provide personalized treatments. We analyze early health issues and symptoms to promote wellness through preventive care.
Our skilled Ayurvedic practitioners and therapists specialize in Panchakarma, including Abhyanga oil massage, Shirodhara, Pindasweda, Lymphatic Drainage Massage, Basti, and other appropriate treatments.
We carefully select Ayurvedic herbal medicated oils for your therapies, considering their unique qualities such as attributes (guna), potency (virya), and post-digestive effect (vipak).
Ayurvedic Packages/Bundles
Ayur Healthcare stands as one of Australia's most popular, reputable, and affordable Ayurvedic clinics. To enhance affordability, we now offer bundled packages of your favorite therapies. Our consistent excellence has earned us the prestigious title of "Most Popular Holistic Clinic in Australia" for the consecutive years 2020, 2021, and 2022.
Experience the power of natural and effective Ayurvedic treatments for healing. Consult our highly skilled and experienced Ayurvedic Practitioners, holding B.A.M.S, M.S, and M.D qualifications, for a personalized Ayurvedic health assessment that aims to restore bliss to your body and mind. Embracing a holistic approach to physical and emotional well-being, our practitioners provide Ayurvedic therapeutic massages and treatments.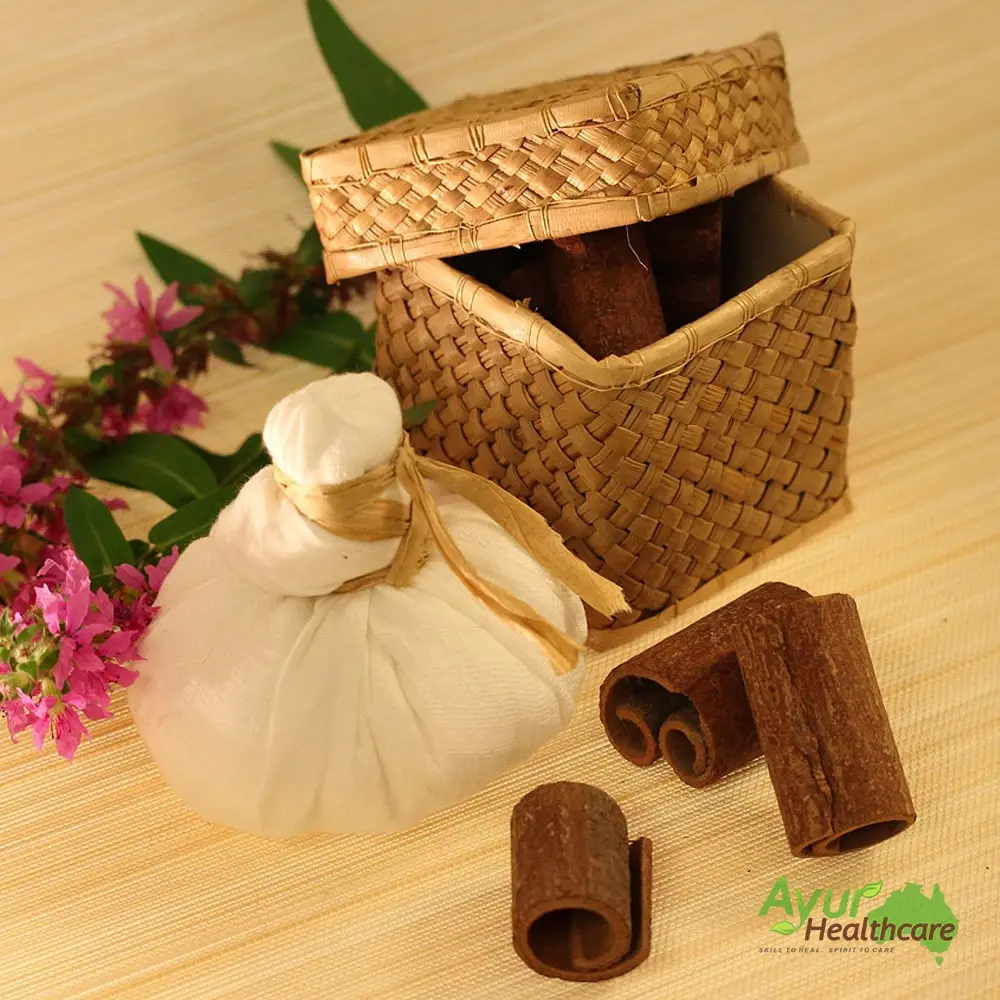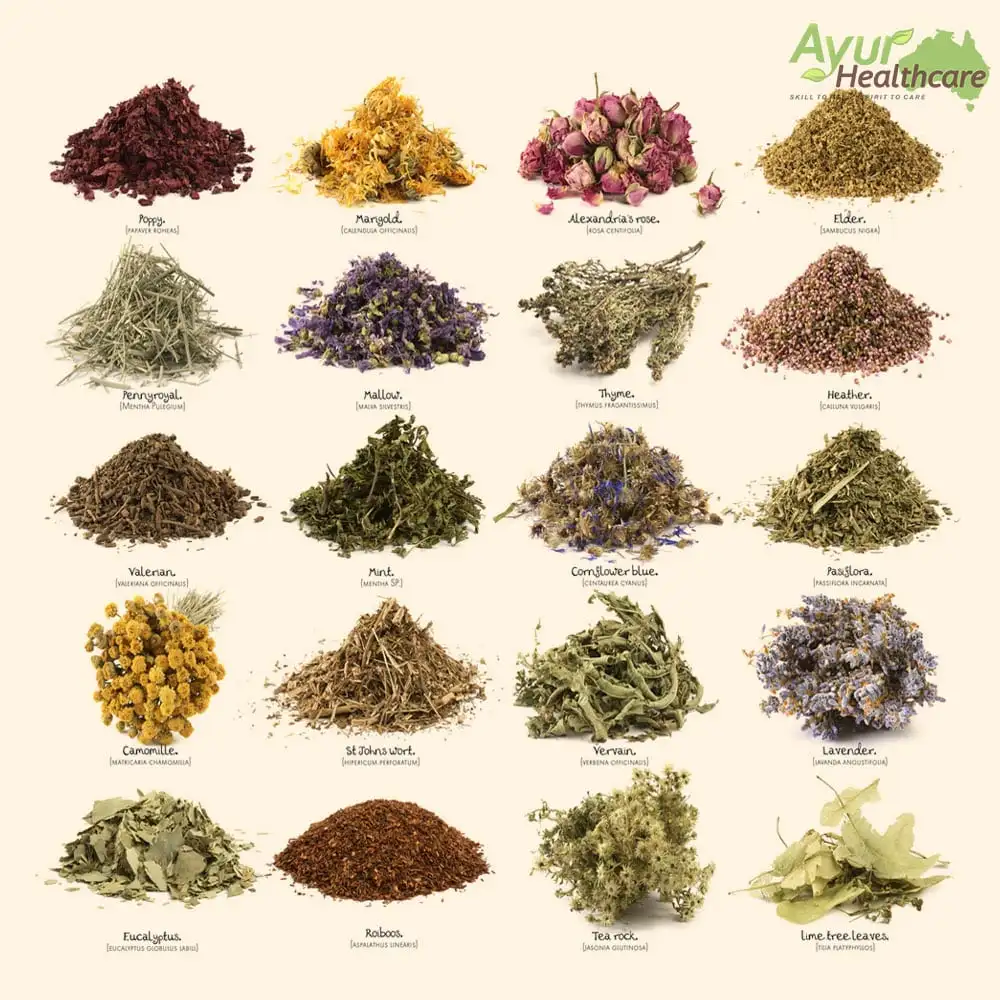 Ayurvedic Store (Online Purchase only)
Welcome to Ayur Healthcare's Online Ayurvedic Store!
Our online store offers a wide range of high-quality, sustainably sourced, organic, and fairly traded Ayurvedic products. At Ayur Healthcare, we curate our collection with great care to ensure that you have access to authentic Ayurvedic products. Explore our online store to discover the Ayurvedic way of living and browse through our diverse range of offerings.
Ayur Healthcare takes pride in being one of the most highly reputed and trusted Ayurvedic clinics in Australia. We want to clarify that we do not sell Ayurvedic medicines without an Ayurvedic consultation (Health assessment) from our qualified practitioners. Our qualified Ayurvedic practitioners conduct thorough assessments to prescribe Ayurvedic medicines tailored to individual needs. However, you can freely purchase non-prescription Ayurvedic products through our online store.
Ayurveda is an ancient holistic healing system originating from India that focuses on balancing the mind, body, and spirit to promote overall health and well-being. It emphasizes the importance of individualized treatments and lifestyle modifications based on a person's unique constitution, known as doshas.
When practiced by trained and qualified professionals, Ayurveda is generally considered safe. However, it is important to disclose your medical history, current medications, and any existing health conditions to the Ayurvedic practitioner to ensure safe and effective treatment. Additionally, it's crucial to seek Ayurvedic treatments from reputable clinics or practitioners.
3
How long does an Ayurvedic treatment take to show results?
The time taken for results to manifest can vary depending on the individual, the nature of the condition, and the specific treatment. Some people may experience immediate relief, while others may require consistent treatment over a period of weeks or months. It's important to follow the prescribed treatment plan and have realistic expectations
4
Are Ayurvedic medicines and treatments expensive?
The cost of Ayurvedic medicines and treatments can vary depending on the type of treatment, the duration, and the specific clinic or practitioner. In general, Ayurvedic treatments are considered to be more affordable compared to certain conventional medical procedures. However, it's best to inquire about the costs during your consultation or from the clinic directly.
5
Can Ayurveda help with weight management?
Ayurveda offers various approaches to weight management that focus on balancing the body and promoting overall well-being. It emphasizes the importance of understanding your unique body type or dosha (Vata, Pitta, or Kapha) and tailoring the treatment accordingly. Ayurvedic weight management involves a combination of dietary recommendations, herbal supplements, lifestyle modifications, exercise, detoxification therapies (Panchakarma), and stress management. Consulting with an Ayurvedic practitioner will help create a personalized plan to achieve and maintain a healthy weight.
List of Private Health Insurance Providers Who Cover Our Consultations
Always check with your health fund provider, before making an appointment.
Ayur Healthcare is one of the most affordable Ayurveda clinic in Australia and one of the exceptional clinic who accepts private insurance rebates to make it more affordable.
Google Review
I have consulted Ayurvedic doctor in the past but here things went differently altogether. Despite being an online ayurvedic consultation, I was able to communicate well and acknowledge the issues I had been facing. Later, I also visited the Ayur Healthcare Clinic and signed up for a comprehensive tailored detox plan. Therapeutic!

Google Review
Undoubtedly, Ayurveda products have been so far the most effective in treating my sleep disorder issues. Post my first consultation at Ayur Healthcare, I went ahead with the suggested treatments, and trust me, it has done wonders. Well, Ayurveda is my way of living, you should go for it too!

Google Review
Beyond impressed by the experience I had with Ayur Healthcare. It was my first Ayurveda detox experience and it went pretty well. Will definitely be back for another detox session.

Google Review
"I was sceptical about the Ayurveda treatments but not anymore. Switching to Ayurveda was one of the best decisions for me. Now I feel more relaxed and energized."

Google Review
Had an amazing experience as I took a Panchakarma therapy at Ayur Healthcare. On my visit, the attendant was very hospitable and guided me throughout the session. Would recommend ayurvedic consultation and therapy for full-body rejuvenation to all my friends.

Google Review
Having Panchakarma treatments at Ayurhealthcare has been a wonderful experience. I came to have treatments here after experiencing significant trauma in my life and found Anu very caring and knowledgeable and the whole centre is very professionally run. I felt like I was in good hands the whole time. I had the 7 days of Panchakarma and every step of the way the practitioner made me feel very comfortable and at the end I felt like a new person!

Tripadvisor Review

Great Natural Therapy "Took my husband here for joint pains he's been having for a few years now. Took Ayurvedic consultation from Anusha and been following the dietary recommendations and some herbal medication prescribed, it's been great so far, pains all gone away. Prior to this, he been to a Rheumatoid specialist and was about to start medication, which had to be taken for lifetime and with side effects of course. I'm so happy for this Natural Theraphy alternative we discovered. The Ayur Health centre itself is great, the ambience, the staff all very peaceful feeling as if you're in some retreat centre."

Google Review
I underwent treatment for my rheumatoid arthritis from ayurhealthcare ayurveda center. I was having severe joint pain and it started 12 yrs before. Starting pain was negligible and I ignored it. As years passed pain also increased. Now as I got retired and was planning to enjoy my life pain got over me and I was unable to even walk, bent and even move freely. So I thought I will have to get it cured then through my friend I heard about this clinic. I came to know this centre is one of the best in Sydeny and have genuine Ayurvedic treatments so I started the treatment now I'm feeling completely fine. I'm able to due my day to day activities without any problem. I even go for walks. I'm still on medications as practitioner had told to continue them at least for 3 months. Practitioner is very friendly and very professional. Thank you team ayurhealthcare.

Google Review
Treasure Trove.
I visited Ayur Healthcare for my chronic migraine. After getting treatment here, I will say that overall the experience was pleasant all the way through. And there is significant improvement in my headache. The initial consultation lasted for 1.5 hour, Practitioner Anusha and Anu Handa is very thoughtful and attentive, they examined me very carefully. I am very grateful to them for a reverent and professional attitude. Practitioners also continued to support me from a distance with tips and tricks. They are very organised and systematic. The place is neat and clean and has a good positive feel, And it's so peaceful and serene.. where u can step away a bit from your daily life hustle and bustle . I definitely recommend ayur healthcare, both for the purpose of treatment and prevention. A treasure trove.

Google Review
I cannot give a stronger recommendation for this clinic. Every step of the process as a patient from arrival to consultation, Panchakarma therapies and follow-up was handled with utmost professionalism and care. Anusha is the best Ayurvedic Practitioner in Australia I have ever dealt with. She goes out of her way to make you as comfortable and explain every step of treatments, a highly skilled and professional ayurvedic practitioner. Excellent set up... very professionally run. A must visit, must try-out place! You will feel totally rejuvenated

I had a panchkarma at ayur Healthcare. Practitioners and staff were so friendly and supportive, They have taken proper care of me. Overall it was wonderful experience with everything being taken care very well. I would definitely recommend to my friends and relatives as its a very useful and effective treatment for all ailments. I found everything in order and satisfactorily. – (28 August 2019)

A beautiful Mind, Body, spirit/soul experience with caring practitioner. I perticular liked attention to detail and very mindful. – (3 days standard Panchkarma (20 April 2019)

My first time experience, it was totally awesome. Did not realise that I had passed. It was relaxing and soothing. I particularly liked the ambience, friendly staff therapist was awesome. She knew her job very well. Overall happy. cheers. Thank you again. - (23/04/2019)

I felt very relaxed and light after the shirodhara. I would highly recommend this Ayurvedic clinic to anyone. I particularly liked that therapist explained everything well and took care with service. Relaxing atmosphere. – (23/04/2019)

I liked the last day of the treatment the most. Excellent experience! Best approach! I alrady recommended to my friends and relatives and I would. – (25 April 2019)

It was a wonderful experience to detox in such a peaceful, calm and nurturing environment. At the end I felt completely rested and rejuvenated and even managed to loose 2 kilos! Highly recommend everyone to try it. – (27 July 2019)

Prompt and responsive customer service, friendly staff and ambience was good. Practitioner explained the process and provided few tips. Overall very satisfactory with service. – (22/10/2019)

The practitioner here are first class and the treatment as genuine as overseas plus the atmosphere is beautiful. I am glad to have found Ayur Healthcare !!! - (20 July 2019)

Attention to detail and explanation about what to expert. A very relaxing whole body experience. Anusha was very professional and personal at the same time. Highly recommended. – (19/10/2019)

The whole experience was relaxing and invigorating at the same time. Excellent. - (25/06/2019)
What We Do
We offer a comprehensive range of services under one roof. Experience the healing power of Ayurveda, Panchakarma, Yoga, Therapeutic Treatments, and Homeopathy. Our expert practitioners provide personalized care, guiding you towards optimal health and well-being. Embrace a harmonious journey of self-discovery and transformation with our integrated approach.
Ayurvedic Store
Discover the timeless wisdom of Ayurveda at our online store, where nature and wellness unite. Embrace holistic healing with our authentic, handcrafted products sourced from the purest herbs and botanicals. Nourish your mind, body, and soul with Ayurvedic remedies that harmonize your inner and outer balance. Transform your well-being, naturally."
Ayurvedic Beauty Balm (4OZ – 113g), Gross weight 235g Banyan

With Shatavari & Rose Geranium.Firms and rejuvenates the tissues Moisturizes and softens the skin.

$

42.00

Discover the natural magic of jojoba oil, a luxurious elixir that has been treasured for centuries for its remarkable benefits. Nature's Shield Jojoba Oil is a […]

$

44.95

Brand: Life & Pursuits

Bhringraj, the Sanskrit term, is translated as the king of hair in English. The oil is derived from the leaves of bhringraj plants. Bhringraj oil stimulates the scalp and causes dead follicles to reactivate, resulting in thicker hair.

Bhringraj Hair oil is high in antioxidants. Bhringraj oil produces vasodilation when massaged on your scalp. Vasodilation improves blood flow to the roots and hair from widening blood vessels. Bhringraj oil has anti-fungal and anti-inflammatory characteristics that can help you get rid of dandruff.

Bhringraj oil nourishes your hair thoroughly while also giving the nutrients and protein it needs to fight dullness and dryness from environmental factors

Caution: Keep this product out of reach of children. Do not use if the pack seal is broken, damaged, and/or missing. Store it in a cool, dry place away from sunlight. Above statements have not been evaluated by any authorities, and this product is not intended to diagnose, treat, cure, or prevent any disease

Disclaimer: We would like to emphasize that the information provided on this website is intended solely for educational purposes and should not be considered medical advice. It is essential to seek guidance from a certified healthcare professional to receive a personalized treatment plan.

$

22.95
Ayurvedic Recipes
Embark on a Culinary Journey to Wellness: Unleash the Power of Ayurvedic Cuisine with Ayur Healthcare's Exquisite Recipe Collection
January 16, 2020
Kitchari is a traditional Ayurvedic dish known for its detoxifying and balancing properties. It is made from a combination of basmati rice, split yellow mung beans, and various spices.
February 15, 2020
At Ayur Healthcare, we believe in promoting holistic well-being through Ayurvedic principles. For individuals with a Pitta body type, we recommend a breakfast plan tailored to
[…]
March 15, 2020
Ayurvedic Recipe : Vegetable Stew Ingredients: 2 tablespoons ghee (clarified butter) 1 teaspoon cumin seeds 1 teaspoon coriander seeds 1 teaspoon turmeric powder 1 teaspoon grated fresh
[…]