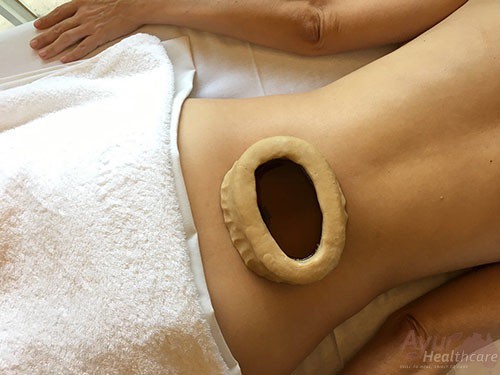 Kati Basti
Duration : 1 Hour $ 100
The word Kati Basti comprises two terms, Kati refers to lower back and Basti stands for retaining something inside.
Ayurvedic Treatment Kati Basti is an intensely soothing and effective treatment in which lukewarm, herbal medicated oil is applied on the lower back with the help of black gram flour dough.
At Ayur Healthcare Ayurvedic practitioners follow a holistic approach and focus at restoring all the body functions when dealing with back pain and musculoskeletal diseases. Back pain has become very common in today's modern world. There are so many factors responsible for back pain but some major contributing factors are improper body posture, sedentary occupations, physical trauma, lack of physical activities and improper diet and lifestyle. Over the years this may cause damage to spine alignment. Kati Basti is highly effective therapy in relieving lower back pain due to muscle spasm and injury of the lower spine.
Kati Basti and its unique features:
The healing properties of the oil stimulate tissue repair and strengthen muscles, cartilage and bone
Restores the alignment of the spine
The intensive application of Medicated oil helps to reduce toxins accumulating in the muscle tissue
Medicated oil acts as an anti-inflammatory and antispasmodic
Medicated oil helps restore the cellular memory of the muscle tissue
The increase in blood flow to the area aids in the healing process
Treatment method:
The dough is prepared with black gram flour. It is then made into a small ring with suitable height which is placed over the lower back. Then Luke warm medicated oil is carefully poured into the dough-ring
This oil is changed throughout the procedure in order to maintain a lukewarm temperature.
At the end of the procedure the dough is removed; a soothing massage is given over the affected area. The person is advised to take rest for a while.
Kati Basti Helps to relief from the following conditions:
Backpain
Degenerative spine changes
Osteoporosis
Sciatica
Shoulder pain
Spinal cord compression.
Hip pain