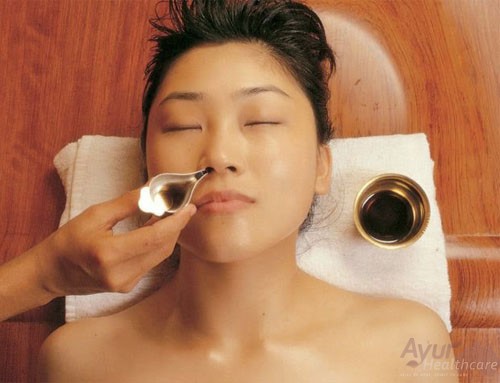 NASYA
45 min | $90
Nasya is the cleanse of channels of head and neck. It is one of the classics Ayurvedic detox paradigms known as Panchakarma. Nasya otherwise know as Nasal Detox is a potent restorative therapy in treating chronic sinusitis, hay fever, respiratory disorders, migraine, cataract, head aches, cervical spondylitis, frozen shoulder, aphonia, stress and for mental and emotional health.  Multiple sessions are recommended for long lasting results and to address specific illnesses.
During Nasya, medicated oil is administered to nose after giving a thorough sinus, head and neck massage and elaborate steam. After administering the oil to nose, again a quick massage is given to vital points to improve absorption. The session ends by applying an aromatic herbal smoke.
The influence of Nasya in the cerebral cortex area produces a stimulatory effect resulting in a complete nasal detoxification and symptomatic relief. Nasya is also recommended for hormonal balance by improving pituitary control. The effects of Nasya can be boosted by Abhyanga (Ayurvedic hot oil massage) and steam therapies.
Quick session of Abhyanga, Steam and Nasya: 70 min | $130
Abhyanga, Steam and Nasya:  100 min | $170