Anu Handa
B.A.M.S, M.D, AYU - Ayurvedic Practitioner
---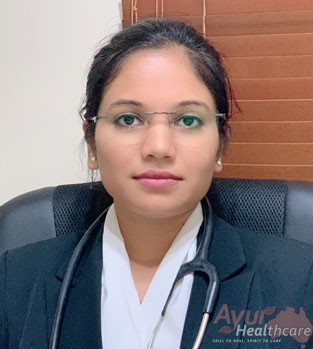 BAMS – Bachelor of Ayurveda, Medicine, and Surgery.
MD – in Panchakarma (Panchakarma Specialist).

ATMS- Accredited Member of Australian Traditional Medicine Society. 
Anu Handa is a highly qualified and experienced practitioner of Ayurveda. She holds a Master's Degree specializing in Panchakarma. She Graduated in Bachelor of Ayurvedic Medicine and Surgery from the University of Ayurveda (the top-most University for Ayurveda, Ranking No.1 in India) along with one-year internship posting in various departments.
Anu Handa was one of the favorite students of the Dean of the University of Ayurveda. She achieved faculty attended placements in various branches of Ayurveda. She got her training in modern diagnostics from some of the most renowned private hospitals, like Radhika Multispecialty hospital, Gujarat.
Anu Handa has expertise in treating a wide range of medical conditions through Ayurveda and conventional medicines. She has presented scientific papers at various conferences and has published research papers in renowned International Journals.
Anu is always dedicated and passionate in her career. Her deep roots in Ayurveda, intuitive skills in consultation and amiable interaction helps her to provide apt and effective advice to her patients. She is well experienced in using the wisdom of Ayurvedic herbal combinations, massages and detox therapies for healing right from the root causes that led to imbalances or diseases.
Anu Handa provides an integrated approach to preventing and treating illnesses. She also has expertise in dealing with joint disorders (including aches and pains), lifestyle disorders, respiratory disorder,digestive issues, skin disease, hormonal disease, autoimmunedisease, mental health, obesity, gynecological disorders andwellness care with traditional medicines.
She is adept in creating customized treatment plans, so that you start experiencing a higher level of energy and vitality in your daily life.
The great thing about Ayurveda is that it's a treatment that always yields good benefits, not side effects. Ayurveda is not just about nutrition or herbs. It has unique tools for diagnosis and a better understanding of the human constitution – which is different from person to person. Everyone has a unique metabolic system and so, specific herbs, their combinations and specific panchakarma therapies are administered as per the needs of that patient.
She says, "I try and leave enough time for new appointments. I take effort to educate the patient as well as their family members so that when they leave the clinic, they are well informed, calmer and confident."
Recipient of Himalaya Drugs Award – Awarded by the Himalayan Drug Co. Ltd.

Participated inHealth Awareness Activities as consulting Ayurveda practitioner during Aggrotech Delhi.

Gave courses in Yoga and Meditation Camps organized by various NGOs.

Participated in 'Health Fair Kloten (Ayurveda & Herbal) held at Zug, Switzerland.

Participated in 3rd International Seminar on Ayurveda organized by Gujarat Ayurveda University, Jamnagar, Gujarat, India.

Participated in International Conference on 'Ayurveda and Hormonal Diseases' organized by Madan Mohan Malviya Government College and Hospital, Udaipur, India.

Actively participated in National Seminar on Panchakarma at the J. S. Ayurveda Mahavidyalaya, Gujarat, India.

Published articles on clinical research in International Journal of Applied Ayurveda Research.
Experience the best Ayurvedic care in Sydney with Anu Handa, a highly qualified and expert Ayurvedic Practitioner & Panchakarma Specialist at Ayur Healthcare. With a B.A.M.S Plus M.D qualification and extensive expertise, Anu Handa is renowned for providing the finest Ayurvedic treatments. As a skilled specialist, she offers personalized consultations and effective therapies for holistic healing. Whether you're seeking traditional Ayurvedic remedies or Panchakarma detox, Anu Handa's expertise ensures you receive the highest standard of care. Trust in her knowledge and experience to address your health concerns and restore balance to your body and mind. As one of Sydney's leading Ayurvedic practitioners, Anu Handa at Ayur Healthcare is dedicated to your well-being. Experience the transformative benefits of Ayurveda and receive exceptional care from the most skilled and sought-after practitioner in the field.