Is body pain bothering you at all times? Many people suffer from repetitive stress injuries, Fibromyalgia, Migraines, or Osteoarthritis causing pain in the neck, back, or shoulders. Often conventional pain-control medications do not work but cause side effects as well. Pain is not something you have to live with! Ayurveda can help you! Ayur Healthcare, Parramatta, Sydney brings to you effective Ayurveda for aches & pains.
Pain can be caused by certain unconscious habits like bad posture, chronically tensing your muscles, eating over-processed or refined food, too many cups of coffee, or not drinking enough water. These causes may irritate Vata dosha and make you susceptible to pain. Do not ignore your body's messages until pain overwhelms you, get help earlier!
Abhyanga Ayurvedic Massage
Ayur Healthcare, Sydney brings to you Abhyanga, a massage therapy in Sydney done with herbalised oils, formulated according to the ancient Ayurvedic texts. These warm herbalised oils are applied to the whole body with specific techniques to provide relaxation and pain relief at the same time. Long relaxing strokes, triggers at pressure points, and other strokes that can address stiffness, knots, and relax the system are used to achieve desired results. Abhyanga may improve circulation & reduce stiffness in the body.
Ayurvedic Marma Massage
Ayurveda considers Marma points in the human body as the seats of life! They are the vital points of the body or trigger points. Muscles, tendons, ligaments, blood vessels, nerves, bones, and/ or organs meet at these points making it a vital point.
Marma points are triggered by special techniques to improve the flow of life force (prana) through the body in a Marma Massage session. Marma massage works like a deep tissue massage and helps with pain, stiffness, tightness, and knots in the body. Herbalised oils used in Marma massage boost the effects of pain relief. Marma massage followed by a session of steam brings out better and long-lasting results and relieves: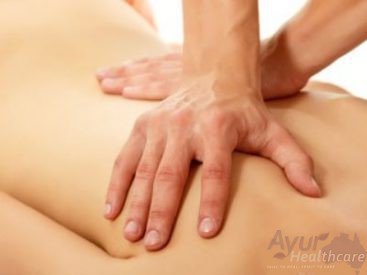 ❖ Pain and stiffness in the muscles
❖ Paralysis
❖ Frozen shoulder
❖ Osteoarthritis
❖ Degenerative changes in body
❖ Swelling or oedema in the body
❖ Rehabilitation of body after injury or surgery
Contact us at Ayur Healthcare to know more.