Sapna Marwaha
Massage Therapist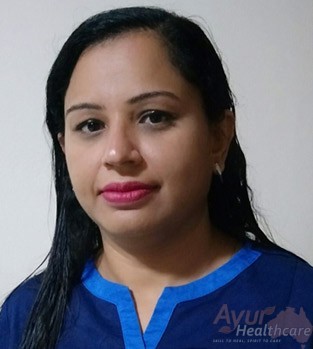 Sapna Marwaha specialises in massage therapy that include relaxation, remedial, sports and even deep tissue at Ayur Clinic, Parramatta, Sydney. She has a special interest in perfecting her skills in Postnatal massage and care. She has a passion for Natural health and Remedial massage. She received her formal training at Discover Massage Australia. She is an active member of International institute for Complementary Therapist (IICT) and holds professional indemnity insurance.
She is enthusiastic and zealous about massage as a way to support and increase people's overall health and wellbeing. Her aim is to offer exceptional healing therapies guided by Ayurvedic Consultant's at our clinic as per your Dosha's imbalance or specific health concerns. Working together with the Ayurvedic Practitioner, she is able to achieve optimal results with the patient.
Massage therapy has proven to be extremely beneficial to people leading busy lifestyles which often leads to work related stress. The pain in the back and neck due to sitting for extended period at a desk can also lead to mental stress. Massage therapy can relief you from this pain and way to loosen up the de-stress. Everyone can gain from massage therapy be it a parent at home or an office worker, athlete.