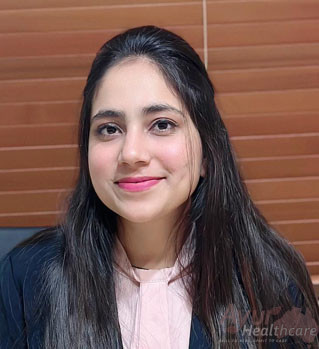 BAMS - Bachelor of Ayurvedic Medicine and Surgery
DNYS - Diploma in Yoga and Naturopathy
DAPT - Diploma in Ayurvedic and Panchakarma Therapy
Chand is proficiently qualified, experienced as well as confident Ayurvedic practitioner and Ayurvedic therapist.
She has accomplished 5.5 year of her Bachelor Degree, specialised in Ayurvedic Medicine and Surgery from one of the top universities of India named, Gujarat Ayurveda University. After her tremendous learning process in the Bachelor of Ayurveda, she accompanied by one year of internship program in various departments.
With her dedication of expanding knowledge in Ayurveda and treat diseases with the help of our precious nature and yogic posture, she joined new learning program of Diploma in Yoga and Naturopathy. After she completed Diploma in Panchakarma therapies with expertise to treat number of chronic diseases. She has gained Panchakarma therapy skills during her practitioner journey.
She has extensive practical experience in JAIN PANCHAKARMA AYURVEDIC HOSPITAL, where she assisted treating various diseases with medicine knowledge under one of the most experienced Practitioner. S.R. Jain supervision.
Chand is well trained and compassionate Ayurvedic therapist. Chand was one of the glistening students at the University of Ayurveda. She is very passionate about delivering exceptional care towards everyone. To add more in her skills and knowledge in the field of Ayurveda, she has extensive knowledge of Ayurvedic herbs and therapies.
Chand's speciality also includes (but not limited to) treating joint disorder like (Arthritis, Rheumatic disorder, Sprains and Strains), Skin Disorder, lower back pain, neck and shoulder pain, obesity, depression, post-natal care, digestive issues and insomnia.
She also has done tremendous work during COVID-19 pandemic period by assisting saving numerous lives. She believes that "she is always ready to serve best treatment and therapies to patients through her knowledge, and spread healthy and positive vibes to everywhere."
Chand is passionate about meeting the experts around the world to share her knowledge about Ayurveda and gain more understanding from Ayurveda and medicine experts by attending seminars. She has attended more than 5 national and international seminars around the world at the very young age which shows her dedication towards Ayurveda practice.
Participated in 1st AYUSH INTERNATIONAL CONFERENCE & EXHIBITION 2018 Melbourne Australia.

Participated in ACADEMY OF EMERGENCY MEDICINE: (AEM)2021 Vadodara Gujarat India.

Participated in ASSOCIATION OF AYURVEDIC PRACTITIONERS AT GATEWAY OF AYURVEDA (AAPCON) 2018 Taj Hotel Bombay India.

Taken a part in SHIVA INTERNATIONAL, inc. Certificate 2016 Vadodara India

Participate in AYUR'15 national seminar on clinical $ diagnostic skills in Ayurveda 2015 Vadodara India.

Participated in NASYA 8TH WAC SATELLITE SEMINAR 2018 Ahmedabad Gujarat India.

Participated in GUJARAT STATE YOG BOARD for Yoga Trainer 2021 Vadodara Gujarat India.

Awarded as a CORONA WARRIOR at AYU GROUP OF GUJARAT 2022 Gujarat India.