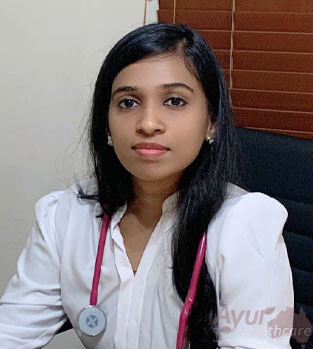 B.A.M.S – Bachelor of Ayurvedic Medicine and Surgery
M.S (Masters in Surgery),
PGDY (Post Graduate Diploma in Yoga)
Member of ATMS Australia.
Jwala Jayaram is an Ayurveda practitioner from Kerala (India), the land of classical Ayurveda, with expertise in clinical practice since 2013. Authentic Ayurveda medical practice with in-depth knowledge in modern medicine has enabled her to provide relief to various ailments of young adults and in geriatric population.
Being specialised in Shalya Tantra (Surgery), she is a specialist practitioner in Orthopaedic management (Musculo-skeletal diseases) and general surgical disorders like gastro-oesophageal reflux disease, acid peptic disorders (stomach and duodenal ulcers), irritable bowel syndrome (ulcerative colitis/Crohn's disease), hepato-biliary disorders, renal disorders and Ayurveda Proctology (ano-rectal) case management with para-surgical therapies.
Effective Ayurvedic management of 1st & 2nd degree Sports injuries like ligament sprains, recurrent shoulder dislocation, Post Fracture Rehabilitation using Ayurveda Bandaging techniques and Panchakarma are the other speciality treatment methods carried out in her Ayurveda orthopaedic management.
Her client circle also involves cases of Lifestyle disorders/ metabolic syndrome (Diabetes mellitus, Hypertension, Dyslipidemia), Social anxiety disorders and Stress management, all of which involves psychosomatic case management with Yoga therapy, Breathing techniques, and Panchakarma therapies.
She is one of the pioneer practitioners in Ayurveda Cosmetology (Beauty therapy) and Trichology (Hair and scalp diseases) with expertise in customised product preparation based on Kerala's Traditional Ayurveda.
Clinical Yoga is a specialisation in her practice, instructed and modified based on pathological conditions. Preconception yoga and postnatal yoga is also one of her specialities in health service.
Experience in various Government hospitals and dispensaries in India as Ayurveda Practitioner has provided her with a great insight into client centred service aiding people of rural India, especially geriatric population to improve the quality of life by preventive, Rejuvenative and palliative therapeutic procedures in Ayurveda.
She is a former specialist consultant and Assistant Professor in Nandha Ayurveda Medical College and hospital with expertise in para-surgical procedures of vene-puncture('Siraveda'), cauterization('Agnikarma'), Leech therapy('Jaloukavacharana') and chemical cauterization ('kshara karma').
Experience the best in Ayurvedic care with Jwala, a highly qualified Ayurvedic expert from Kerala. With a B.A.M.S Plus M.S qualification and years of experience, Jwala is a specialist Ayurvedic practitioner at Ayur Healthcare in Sydney. Known for being one of the finest in the field, Jwala offers personalized treatments and consultations tailored to your specific health needs. Discover the power of Ayurveda as Jwala combines ancient wisdom with modern expertise to restore balance and promote holistic well-being. Whether you seek relief from chronic ailments or simply want to enhance your overall health, Jwala's skills and knowledge make her the go-to Ayurvedic practitioner in Sydney. Trust in Jwala's expertise and experience the most skilled and effective Ayurvedic treatments that Ayur Healthcare has to offer. Transform your health and reclaim vitality with the guidance of Jwala, the trusted name in Ayurveda in Sydney.