Anusha Polukonda
B.A.M.S, M.D - Ayurvedic Practitioner
---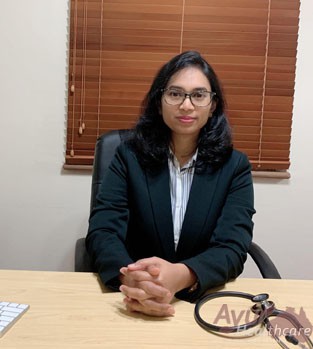 Anusha Polukonda is one of the noteworthy Ayurvedic practioner from India. Service to mankind was the main motto of Anusha.P since her childhood. This immense intrest made her to get into the field of sciences, then she later cleared state level entrance exam and got to study Ayurvedic medicine. She completed her 5 ½ year Bachelor degree in Ayurveda i,e B.A.M.S (Bachelor of Ayurvedic medicine and surgery) from Dr.B.R.K.R Government Ayurvedic college, Hyderabad under Dr. N.T.R Health University. Even after the bachelors, her thirst to gain deeper knowledge in Ayurveda drove her into post graduation studies by clearing another state level entrance exam.
She stood as one among the toppers and bagged a seat to study in the department of Internal medicine in Ayurveda (Kaya Chikitsa) from the same college and done her Practitioner of medicine in Ayurveda for 3 years which included intense clinical research about herbs, chronic aliments, case studies on rare diseases and done an appreciable thesis work on Gouty Arthritis for 2 years.
Anusha Polukondais having 6 years of experience in treating all kinds of joint pains, skin diseases, low back pain, cervical spondylosis, insomnia, depression, migrane, sinusitis, hyperacidity, hairfall, obesity, infertility, etc. She participated in many national and International seminars, presented papers, published articles in International journals, organised many medical camps on various disease conditions. Anushais also expertised in Special Ayurvedic treatment called PANCHAKARMA and also other therapies which aid in curing serious disease aliments and to improve general health condition.
Experience the best Ayurvedic care in Sydney with Anusha, a highly qualified Ayurvedic expert and specialist. As a B.A.M.S Plus M.D qualified Ayurvedic practitioner, Anusha brings extensive knowledge and expertise to Ayur Healthcare. With her refined skills and deep understanding of Ayurvedic principles, she offers finest holistic treatments for optimal well-being.
At Ayur Healthcare, we take pride in providing the highest quality of Ayurvedic services. Anusha's dedication to personalized care and her commitment to your health make her the ideal Ayurvedic expert in Sydney. With her compassionate approach and in-depth consultations, Anusha strives to address your specific health concerns and guide you on a path towards balance and vitality.
Trust in the expertise of Anusha, an experienced Ayurvedic practitioner, to receive the most skilled Ayurvedic treatments tailored to your needs. Experience the transformative power of Ayurveda at Ayur Healthcare, where we prioritize your well-being and offer a comprehensive range of Ayurvedic therapies. Choose the best Ayurveda expert in Sydney for your holistic healing journey.