Anshi
(Ayurvedic Practitioner)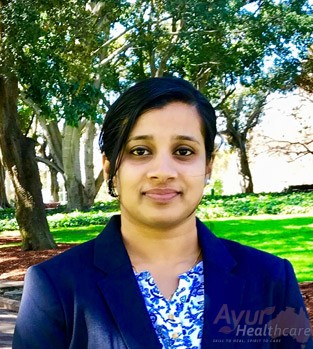 Anshi is an enthusiastic ayuvedic practitioner, who firmly believes in leading a life closely relating to nature. Pursuing herBachelor's degree in Ayurveda from KVG Ayurveda Medical College Karnataka, she worked as a medical practitioner in both Government and Private sectors.
Anshi is from Kerala, asouthern state of India known as the origination land of Ayurveda.
She inherited Ayurvedic expertise from her family holding Ayurvedic consultancy for generations. Startingher medical practice there along with traditional Ayurvedicpractitioners, she could acquire expertise in areas like Toxicology, Pain management, Skin diseases and Panchakarma.
Anshi worked as a medical officer under VayoAmrutham project, a Kerala government initiative that aims at supporting health and well-being of aged people through Ayurvedic treatments.
Besides providing medical consultation, she was responsible for conducting classes and awareness programs on Ayurvedic treatments that helped in bringing people more close towards the magic of healing in a natural way. Down the line she worked as an outpatient consultant in AmruthaAyurvedic Clinic, Sharada Clinic and Maduvanam Visha Vaidya Shala, all at Calicut district in Kerala, India.
Being an active professional member of Ayurvedic Medical Association of India (AMAI), she participated in numerous workshops and seminar conducted by the association. Anshi is a registered associate of Travancore-Cochin Medical council. She was part of Samskara 2011 state level seminars and workshops on Rasashastra and BhaishajyaKalpana which basically deals with preparation of Ayurvedic medicines using herbomineral drugs. She holds certifications after successfully completing workshops on Basic Life Support program. Anshi has done basic Yoga courses and looking for higher studies in Yoga, realizing the integral role of Yoga in the world of Ayurveda.
Anshi is always dedicated and passionate in her carrier. Her deep roots in Ayurveda, intuitive skills in consultation and amiable interaction helps her to provide apt and effective advice to her patients. She always maintains a clean track record all the way throughout her carrier.