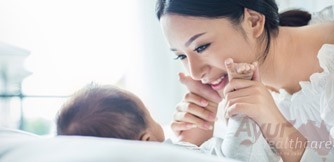 Children's Health
Ayur Healthcare Practitioners in Sydney offers an effective treatment for cold, cough, gastric issues- low appetite & constipation, allergies and breathing problems found in children. This leads to a weak immune system, bad hygiene, bad nutrition, frequently exposed to infections, allergies of the child.
The influence of sickness on your child can be enormous leading to the major health problems. As a parent, you tend to be more and more concerned about your child's diet, safety, health and hygiene. Being a parent we need to understand the kid's immune system and need to give medicines that are natural and having the no-side effect and safe. Homeopathic medicines are the best option for kids as they are safe, made from natural substances and have zero-side effect ideal for the children.
Ayur Healthcare offers gentle yet highly effective homeopathy treatment for the children that work wonders. In homeopathy, the mild sweet pills, powders or liquids are easy to give and more pleasant than many standard medicines.
Homeopathy medicines, on contrary, relieve acute conditions, ensuring better immune systems and effectively control behavioural disorders frequently observed in children. In this method, the root cause of the disease is analysed and treated accordingly to improve the overall health of your child by reducing the infection present in the child's body.
Ayur Healthcare experts can lend a hand in treating the below health problems of children:
ADHA
Allergies
Anxiety
Asthma
Bronchitis
Bed wetting
Behavioural problems
Chicken pox
Colds / Coughs ( Acute and recurrent colds / coughs )
Constipation
Convulsions
Diaper rash
Diarrhoea
Dentition difficulties
Ear infections (Acute and recurrent )
Eczema
Enuresis (Bed wetting )
Examination funk
Fevers
Gastro-enteritis
Headaches ( Sick headaches )
Mumps
Phobias
Skin allergy
Teething difficulties
Temper tantrums
Tonsillitis
Urinary infections
Urticaria
Vomiting
Worms
Gift your child a happy, healthy and disease free life. Visit Ayur Healthcare clinic and consult us for a worry-free Parenthood for your children.