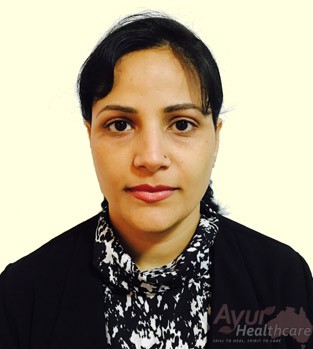 Dr. Ratnapriya Shrivastava (Ayurveda Doctor)
Dr. Ratnapriya Shrivastava is one of the best consultants in Australia and practicing Ayurveda at Ayur Healthcare. Dr. Ratnapriya is an active member of AAA. She rose up learning Ayurveda at home from her Aunt, who is a renowned Ayurvedic specialist. Her aunt helped her gaining knowledge about Pulse diagnosis, tongue analysis, and doshas. Dr. Ratnapriya has completed 5.5 years full-time degree in Ayurvedic Medicine and Surgery in India. She is also a certified weight loss consultant in Australia.
Dr. Ratnapriya has a very strong background of Ayurveda practice in India and spent a few years in government health services. She was appointed as An Ayush Medical officer in Government Primary health care centre.
She is specialized in various health conditions like Autism, Hormonal issues, Cardiac health, Digestive disorders, Arthritis, Obesity, Diabetes, Asthma, Skincare, Spinal issues, Insomnia, Stress, Anxiety, and depression.
She was committed to taking Ayurveda to a different extent. Soon she was appointed as an in-charge medical officer in the same Primary health care center.
After migrating to Australia in 2008, he was committed to taking Ayurveda to an International stage. In order to gain knowledge about the Australian diet, lifestyle and health problems, she worked with a naturopath. While working with naturopath she understood that Ayurveda can help in so many ways to get good health.
Dr. Ratnapriya has attended many national and international conferences on Ayurveda, Yoga, and health. She is committed to spread awareness about Ayurveda in Australia and around the world and prevent and treat diseases and help as many people as possible by bringing them knowledge about nature and Ayurvedic medicine.
She is an expert in pulse diagnosis, Prakriti/Vikriti analysis and recommending various traditional ayurvedic treatments to the patients from around the world.
Her approach, to treating diseases by planning a suitable lifestyle for every individual with due consideration to existing health and life choices, have been very effective. She prescribes Ayurvedic herbal medicines and their combinations tailored to the needs of the patient and administers specific Panchakarma therapies. Every individual is unique and the Ayurveda doctor identifies the uniqueness in the consultation sessions since Ayurvedic procedures of treatment work effectively when tailored in consideration of the identified uniqueness.
Dr. Ratnapriya also promotes ancient meditation and exercise technique in her free yoga classes. She has taught Yoga to many people of all ages. She has designed special yoga classes for young children and pregnant women.
Services –
Consultation
Medication
Panchakarma
Nadi analysis
Shirodhara
Yoga Classes
Weight loss consultation
Life Style consultation
Ayurvedic Diet plan
Ayurvedic cooking